Chain Link 1 5/8" [1 5/8" OD] x 1 3/8" [1 3/8" OD] Black Top Rail Eye Top Loop Cap - Line Post Top Cap (Aluminum)
Details
Chain Link 1 5/8" [1 5/8" OD] x 1 3/8" [1 3/8" OD] Black Top Rail Eye Top Loop Cap - Line Post Top Cap (Aluminum)
Aluminum 1 5/8" (1 5/8" OD) x 1 3/8" (1 3/8" OD) Black Top Rail Eye Top Loop Caps fit atop line posts in a chain link fence, allowing the top rail to slide securely through. When using a top rail for a chain link fence, one loop cap per post is required. These aluminum loop caps fit around the exterior of a 1 5/8" (1 5/8" OD) post and accept a 1 3/8" (1 3/8" OD) top rail, forming a strong, stable connection. They're easy to install and engineered to deliver years of top-level performance.
Features:
• Easy To Install
• Fit Exterior Of Post
• One Loop Cap Needed Per Post
• Sits Atop Line Posts In Chain Link Fence
• Sturdy Aluminum Design Delivers Durable, Long-Lasting Performance
Specifications:
• Material: Aluminum
• Post Size: 1 5/8" (1 5/8" OD)
• Rail Size: 1 3/8" (1 3/8" OD)
Please Note: Due to manufacturing differences, the product you receive may not match the picture.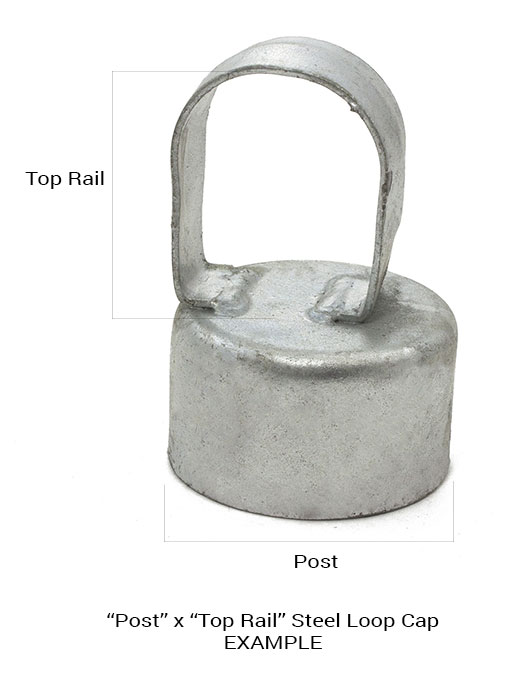 | | |
| --- | --- |
| Chain Link Fitting | Loop Caps |
| SKU | LCA1513B |
| Type | Eye Tops |
| Material Type | Aluminum |
| Rail Size | 1 3/8" [1 3/8" OD] |
| Finish | Powder-Coated |
| Color | Black |
| Condition | New |
| Post Size | 1 5/8" [1 5/8" OD] |