Chain Link 2 1/2" [2 3/8" OD] x 1 5/8" 6-Strand 45° Barb Wire Arm - V-Barb Arm (Galvanized Steel)
Details
Chain Link 2 1/2" [2 3/8" OD] x 1 5/8" 6-Strand 45° Barb Wire Arm - V-Barb Arm (Galvanized Steel)
The 2 1/2" (Fits 2 3/8" OD Actual) x 1 5/8" Post Corner Barb V-Arm fits a 2 1/2" (2 3/8" OD) corner post or terminal post of a chain link fence system. It can securely accept up to six strands of barbed wire with pre-cut notches to allow the wire to easily snap into place for a strong connection. With a galvanized pressed steel construction, this barb wire arm is built to last and enhance the security of a chain link fence system with a minimal level of maintenance.
Features:
• Easy To Install
• Galvanized Finish Protects Against Rust
• Accepts Up To Six Strands Of Barb Wire
• Avoids The Stopping And Starting Of Using Brace Bands
• Attaches To Corner Or Terminal Post In Chain Link Fence System
Specifications:
• Post Size: 2 1/2" (2 3/8" OD)
• Arm Position: 45°
• Material: Galvanized Steel
Please Note: Due to manufacturing differences, the product you receive may not match the picture.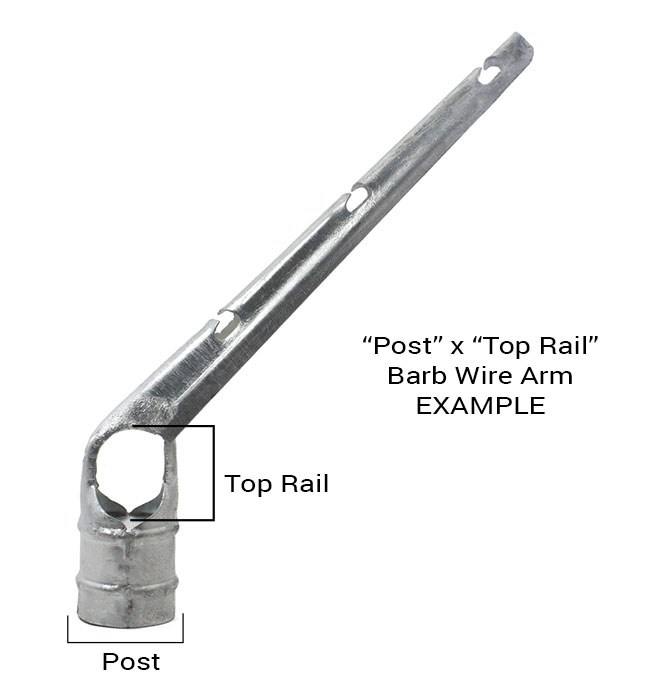 | | |
| --- | --- |
| Chain Link Fitting | Barb Wire Arms |
| SKU | BA62515 |
| Position | 45° |
| Condition | New |
| Material Type | Pressed Steel |
| Mounting Type | Round Post Mount |
| Finish | Galvanized |
| Strand Capacity | 6-Strand |
| Rail Size | 1 5/8" [1 5/8" OD] |
| Post Size | 2 1/2" [2 3/8" OD] |