Chain Link 3" [2 7/8" OD] x 1 5/8" 3-Strand 45° Barb Wire Arm - Line Post Barb Arm (Galvanized Steel)
Details
Chain Link 3" [2 7/8" OD] x 1 5/8" 3-Strand 45° Barb Wire Arm - Line Post Barb Arm (Galvanized Steel)
The 3" (Fits 2 7/8" OD Actual) x 1 5/8" 45° 3-Strand Gauge Barb Arm is a one-piece arm used on the top of the fence line to install barb wire. Designed to fit a 3" (2 7/8" OD) post, this 3-Strand Barb Wire Arm accepts a 1 5/8" rail and can be used to install up to three strands of barb wire in existing notches for quick and easy installation. It is made of galvanized steel, providing protection against rust and corrosion and ensuring years of lasting performance as part of a chain link fence system.
Features:
• Easy To Install
• Material: Galvanized Steel
• Accepts Up To Three Strands Of Barb Wire
• Material: Designed For Heavy Duty Applications
• Galvanized Finish Protects Against Rust And Corrosion
Specifications:
• Arm Position: 45°
• Rail Size: 1 5/8"
• Material: Galvanized Steel
• Post Size: 3" (Fits 2 7/8" OD Actual)
Please Note: Due to manufacturing differences, the product you receive may not match the picture.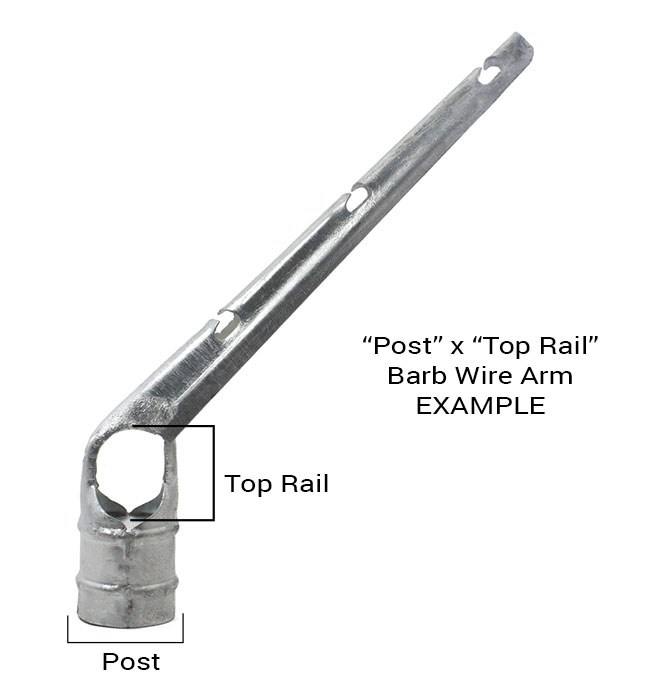 | | |
| --- | --- |
| Chain Link Fitting | Barb Wire Arms |
| SKU | BA315 |
| Position | 45° |
| Condition | New |
| Material Type | Pressed Steel |
| Mounting Type | Round Post Mount |
| Finish | Galvanized |
| Strand Capacity | 3-Strand |
| Rail Size | 1 5/8" [1 5/8" OD] |
| Post Size | 3" [2 7/8" OD] |