Are Panic Bars Required On Exit Doors?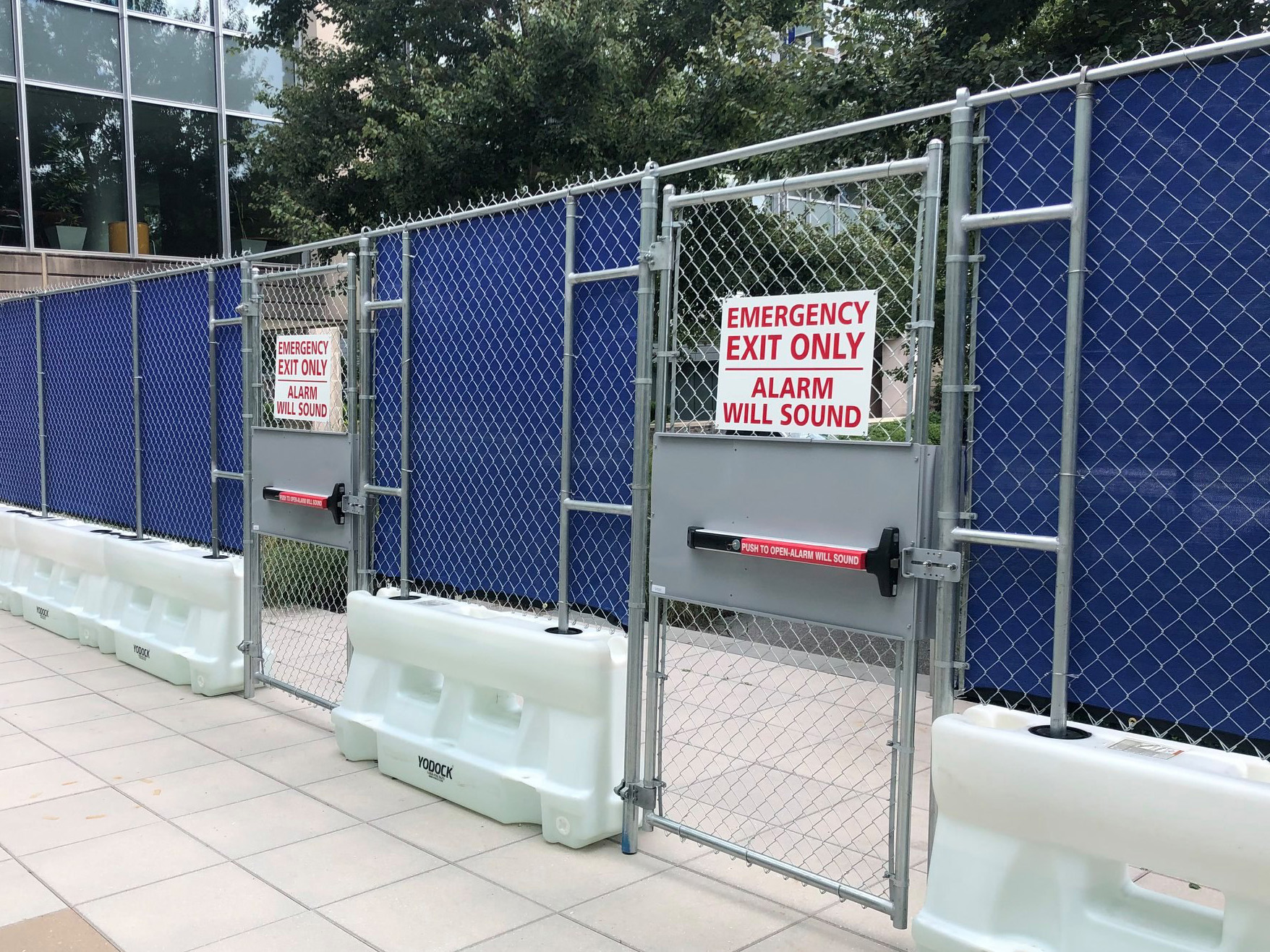 Despite panic bars being an easy exit method for leaving a building, they are also critical for an emergency. Exit panic bars help large crowds escape in a relatively fast amount of time. Therefore, panic bars could benefit your exit doors or gates depending on the regulations that must be followed in your business or residential area. These devices are crash bars, push bars, and panic devices, but they all mean the same thing and must be pushed to open.
What Are The Regulations For Panic Bars?
Laws set by the Department of Labor and Occupational Safety and Health Administration show how panic bars must function in a workplace. First, panic bars should be able to open from the inside without any keys. The hardware must comply with other standards the American National Standards Institute (ANSI) created. Many panic bars immediately state that they comply with the ANSI standards and usually fall under the ANSI/BHMA 156.3 standards. These standards highlight how devices should be able to handle 500,000 loaded cycles and will be able to withstand heavy forces and not allow anyone to enter.
What Are The Main Benefits Of Using Panic Bars
The main reason to use panic bars is that they are:
Secure
Usually Compliant With ADA Regulations
An Easy-To-Use Exit For High-Capacity Buildings
Affordable But Made Of Durable Materials
Specifications Related To Panic Bars
For use in business or work buildings, panic bars usually need to have:
The crossbar and touchpad need to span half the width of each door
Panic hardware should be at least 24 or 48 inches above the floor
No locking devices should be used with a panic bar for emergency reasons
Should use no more than 15 pounds of force to open the panic bar door or gate
Hardware should always be ADA-compliant to help everyone escape safely
Always used with delayed egress and controlled egress points of exit
If installed on a fire door, it should always be certified for this purpose
Depending on building codes, panic bars may need to be tested for resistance if in a heavy hurricane or tornado area.
What Buildings Need Panic Hardware?
The International Building Code (IBC) guidelines should let you know where panic bars must be used. But panic bars are generally required in places that will be used for assembly, educational purposes, or for workers with high-hazard activities. The IBC generally states that buildings with 50 or more people require panic hardware. Other organizations, such as the National Fire Protection Agency, state panic bars are needed in places with 100 people or more. However, remember that this depends also on the state or city regulations. Call your local regulatory government body for specific regulations relating to your situation.
What About Buildings Used For Residential Or Retail Purposes?
Panic bars that coincide in residential properties, offices, and stores do not have as strict standards as those that will be installed in schools, assembly, or high-hazard work areas. Also, if your building does not contain 100 people or more and is not a service area with high-powered electrical equipment, you may not need to follow these regulations. Strict regulations relate to those buildings which:
House more than 100 people
Have more than 50 people and are used for assembly, education, and high-hazard applications
Contain high-powered electrical equipment
Panic Bars For Exit Doors
Panic bars for exit doors are a must, even if you do not have any regulations to follow. Since panic bars allow for a quick exit, they make a building much safer during emergency evacuations. And since they can only be used to exit, they still keep high-security buildings safe from unwanted entry. When installing a panic bar in your facility, provide exit signage to let everyone know where to leave.
Interested in viewing all the options for panic bars? View our large selection of high-quality panic bars.
DAC Panic Bars