Black Chain Link Fence For Residential Or Commercial Propeties
What is Black Chain Link Fence?
Chain Link Fence, also known as cyclone fence, is one of the most popular and practical fence styles for both light residential and commercial properties. Formed by weaving a series of spirals together to make a diamond shape pattern, chain link fence systems contain a tubular steel pipe framework of top rails, line posts, and terminal posts with many different fittings to secure the components of the fence. These fittings are critical to starting and stopping the chain link fence sections, along with helping attach the mesh fabric to the framework.

A residential chain link fence is economical for perimeter protection and can be installed just as a galvanized chain link fence. There are two methods for creating a black chain link fence: using galvanized steel fence parts for the framework paired with black chain link fence fabric (mesh) or using all black chain link fence parts with black mesh fabric. It is common to see galvanized steel framework with a black-coated fence mesh, a choice to cut costs while still introducing the black color into the fence. Black-coated Chain Link Fence systems are created through two different coating processes that boast similar benefits and improved durability.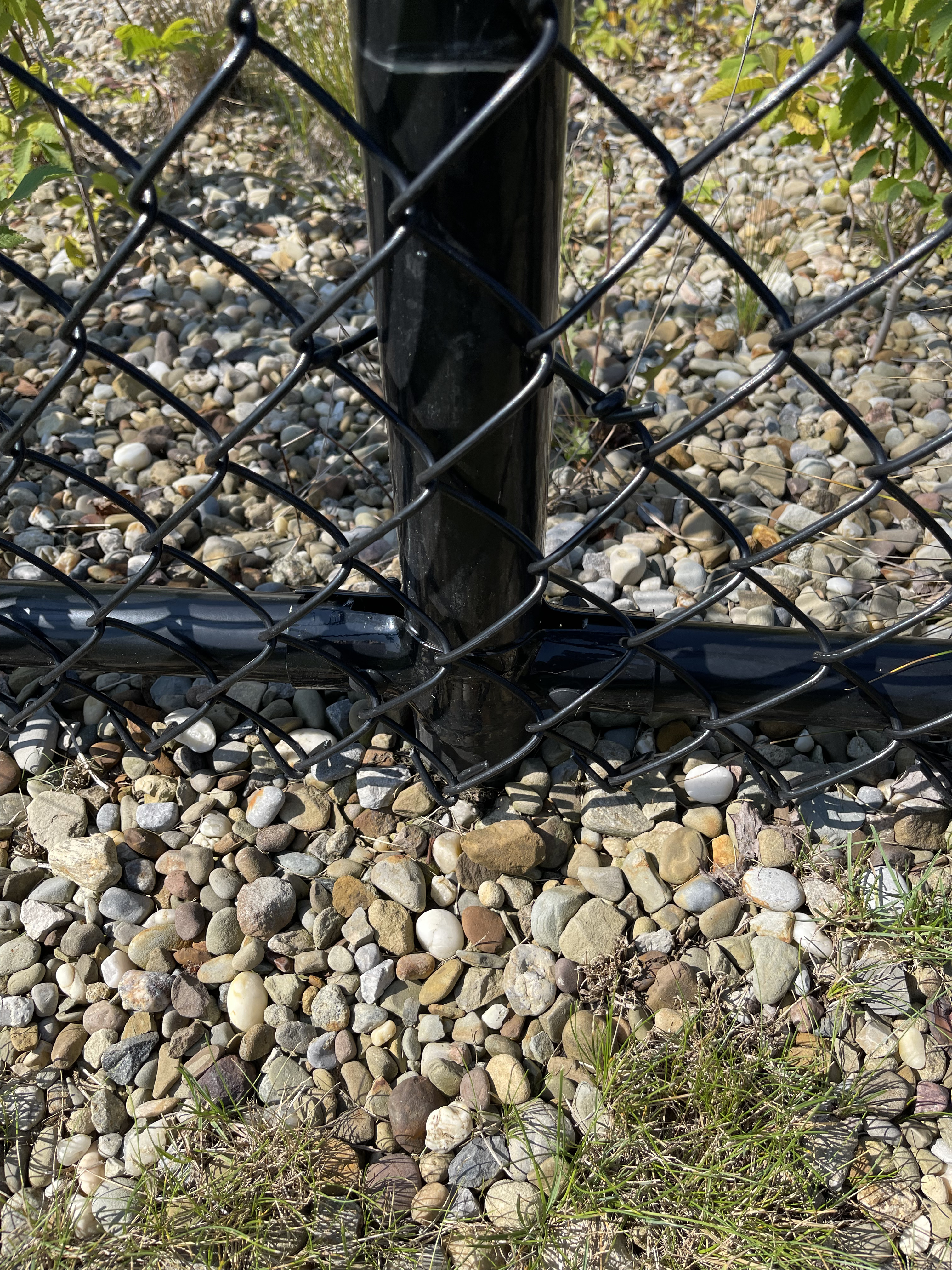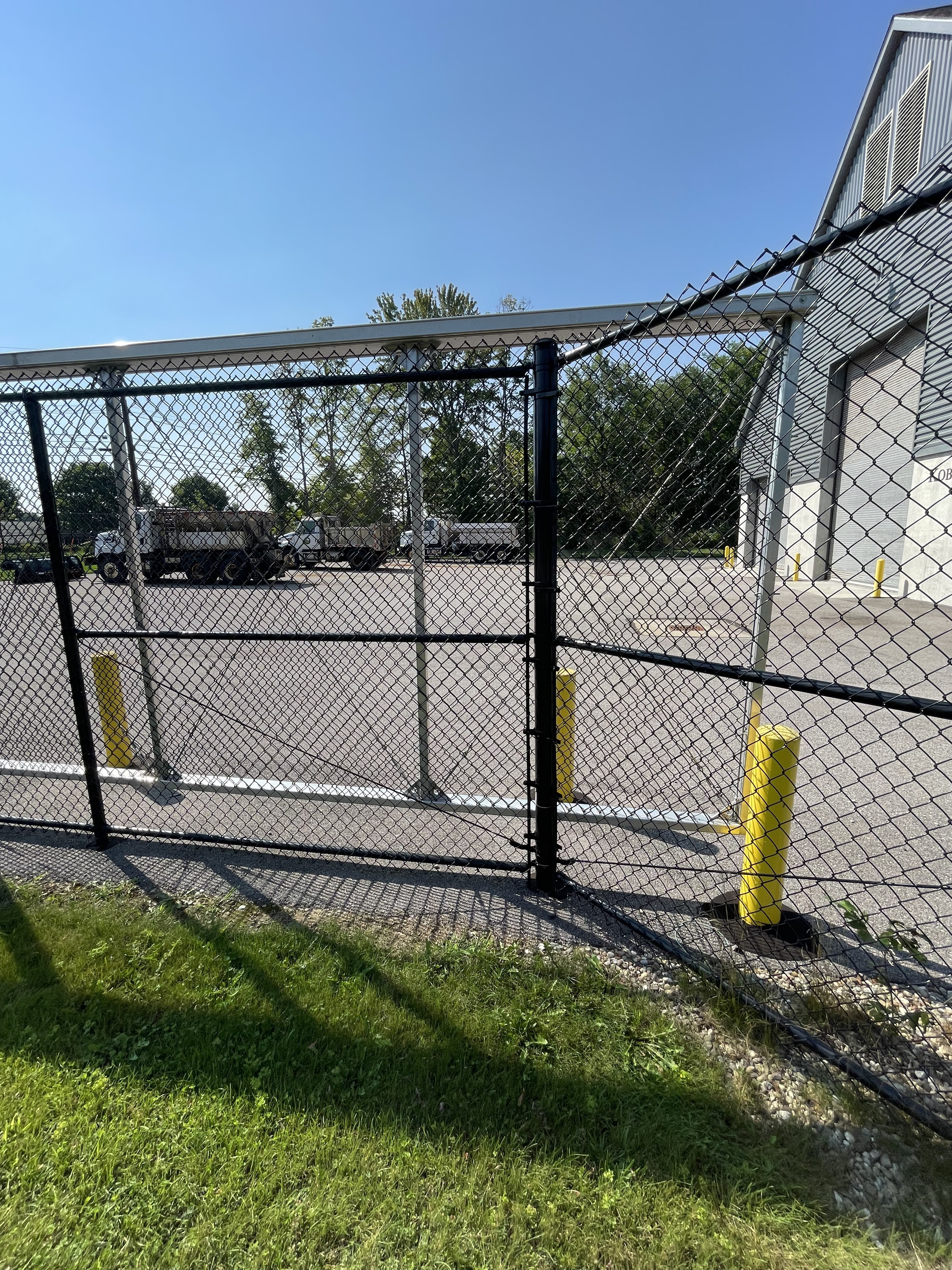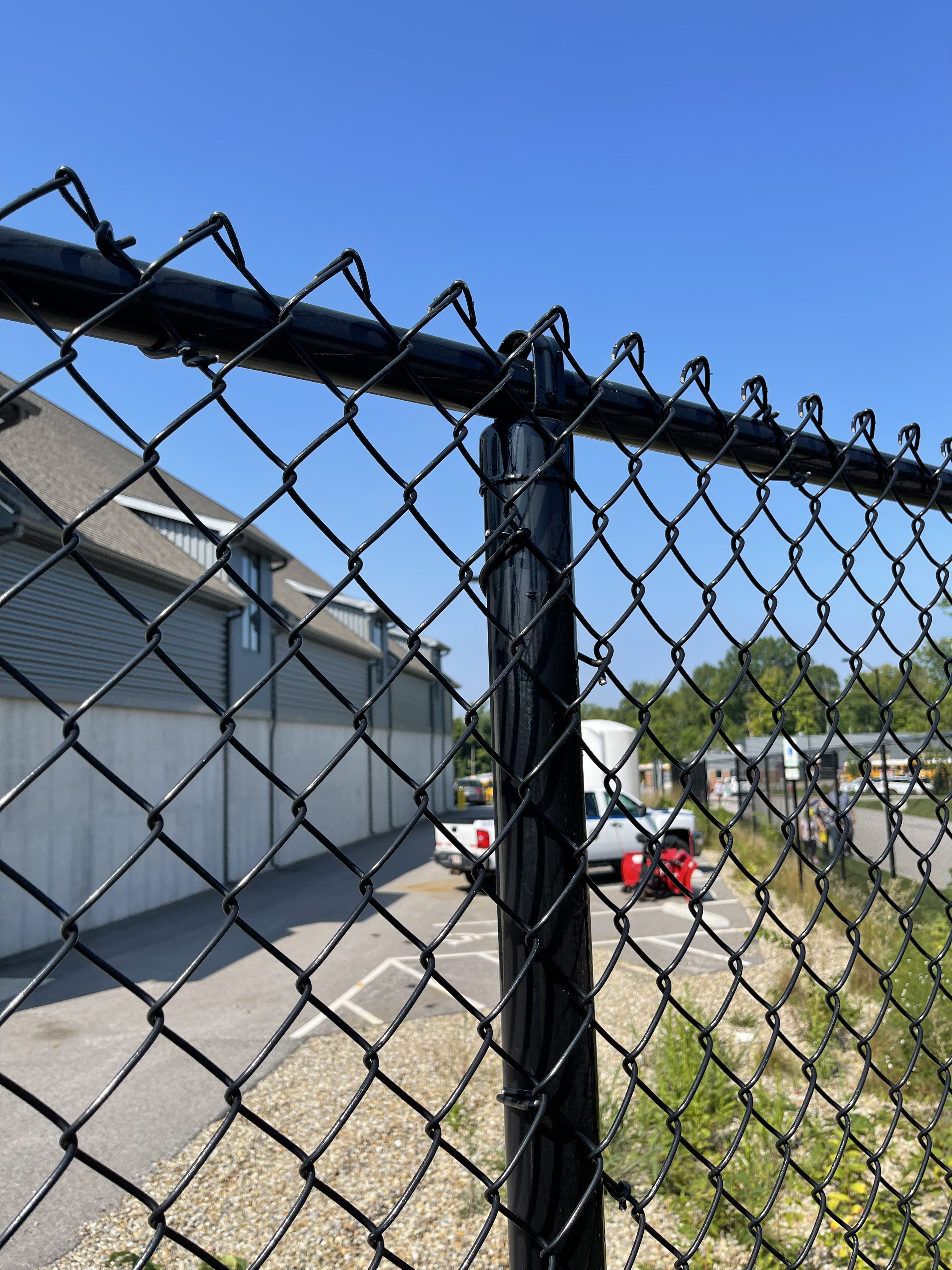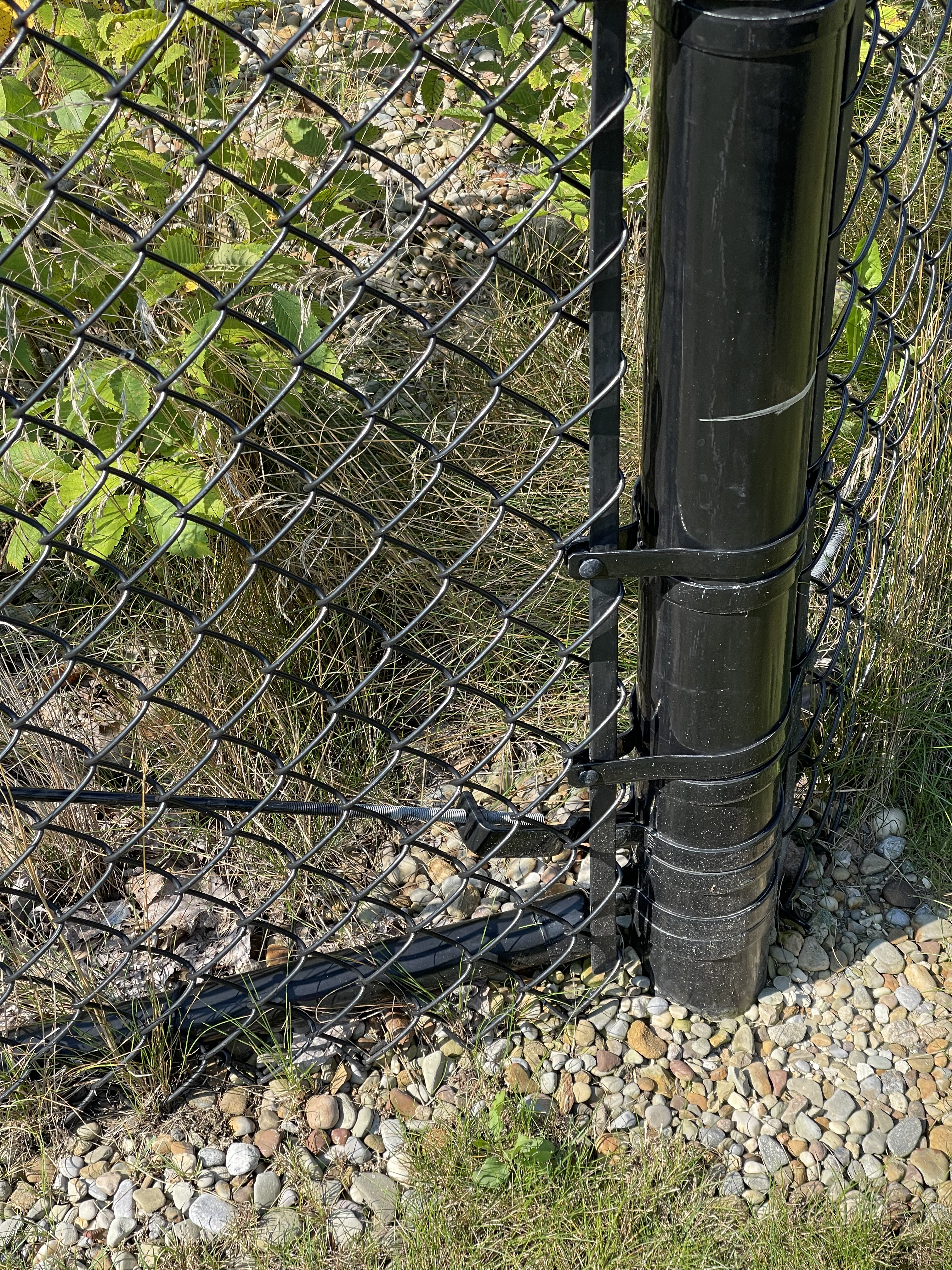 Types Of Coating For Chain Link Fence
Designed similarly to galvanized chain link fences, Black Chain Link Fence parts can be covered with vinyl plastic or powder coating. Vinyl plastic coating is applied to the metal wire or mesh fabric to protect it from rusting in inclement weather conditions. Powder coating is applied to the metal for a smooth and long-lasting finish that resists rust and corrosion, making it weatherproof and durable. These types of coating create a strong barrier from the elements and are typically white, brown, green, or black. The most popular and appealing color coating for chain link fences is black, guaranteed to match any color home and type of yard.
Vinyl-Coated Chain Link Fence - plastic material on top of the mesh fabric or fence parts acting as a sheath to extend the lifespan of the fence
Powder-Coated Chain Link Fence - powder material uses electrostatic application for a base-coat epoxy and a top powder coat for durability
Powder-Coated v. Vinyl-Coated Fence
Powder-Coated
Vinyl-Coated
Electro-Static Charge Keeps Powder On Steel
Better Adhesion To Steel In Oven Heating Process
Dipped Or Painted Process To Coat Exterior
No Maintenance Required - Will Not Crack Or Peel
Requires Paint Touch Up - Will Crack And Peel Over Time
UV Stabilized
UV Stabilized
Environmentally Friendly - Does Not Require Use Of Solvents
Catches It's Own "Overspray"
Requires Chemicals In Covering Process
Excess From Coating Process Is Not Reusable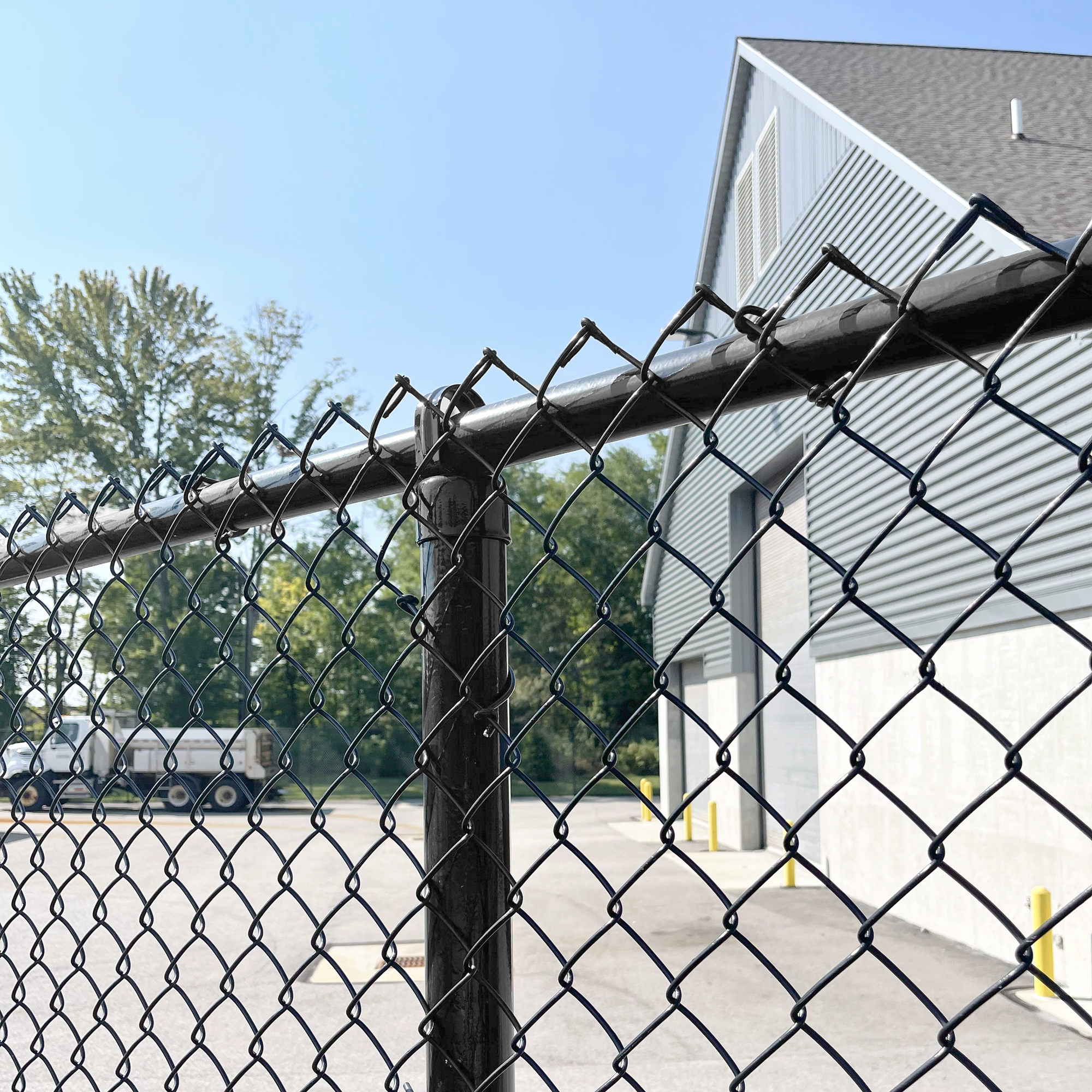 Benefits Of All Black Chain Link Fence
Low Maintenance Fence Option
Increased Thickness Of Wire Gauge
Install To Residential Or Commercial Properties
Provides More Visibility To Protect Against Hiding Intruders
Water-resistent, Rust Resistant, Corrosion Resistant Properties
Long Lifespan (Average 20 Years Or Longer) - Especially If Coated
More Likely Approved By HOA Than Galvanized Chain Link Fence
Allows Sunlight To Shine Through, Unlike Vinyl Or Wood Privacy Fence
Black Coating Fades Into Shady Scenery, Great For Wooded Lots With Trees
Economic Perimeter Protection, Cheaper Than Wood or Vinyl Fence Options
Low Maintenance Fence Option, Can Be Touched Up With Black Spray Paint
More Appealing Than Galvanized Chain Link Fence, Does Not Look Commericial
Difficult To Climb Mesh Fabric Enhances Safety By Preventing Intruders From Jumping Over Fence
All Black Chain Link Fence Means All Parts Are Coated And Protected From Snow, Rain, And Sleet
Understanding Chain Link Fence Mesh Gauges
Chain Link Fence Fabric is comprised of a steel wire that varies in gauge size. To find the gauge size of a wire, measure and note the outer diameter of the wire. Common wire gauge sizes for black chain link fence mesh range from 6 Gauge up to 11 1/2 Gauge, while 9 Gauge is the most common wire size for both residential and commercial chain link fences. The higher the gauge size, the thinner the wire is. 11 Gauge wire is much thinner than 9 Gauge wire, and 6 Gauge wire is considerably thicker and used primarily for high-security, commercial applications. Another way to think about gauge size is that the smaller the gauge number on any of the components, the more steel was used to make it. A huge benefit to having black-coated chain link fence parts and fabric is the added thickness from the powder or vinyl coating that not only protects it from the outdoors but adds strength to the wire itself.
Gauge Size Examples:
6 gauge (.192″)
9 gauge (.148″)
11 gauge (.120″)
11-1/2 gauge (.113″)
Get Familiar With Black-Coated Chain Link Fence Basic Fittings
Click The Fence Fitting To Read More About The Part:
More Resources
Before purchasing, installing, or upgrading a new black chain link fence system, it's helpful to understand the components of a chain link fence as well as the step-by-step process of installing a fence system. Read our How To Install A Chain Link Fence Guide for more information on assembling your new fence.

Contact Us