Can You Bury the Bottom of A Chain Link Fence?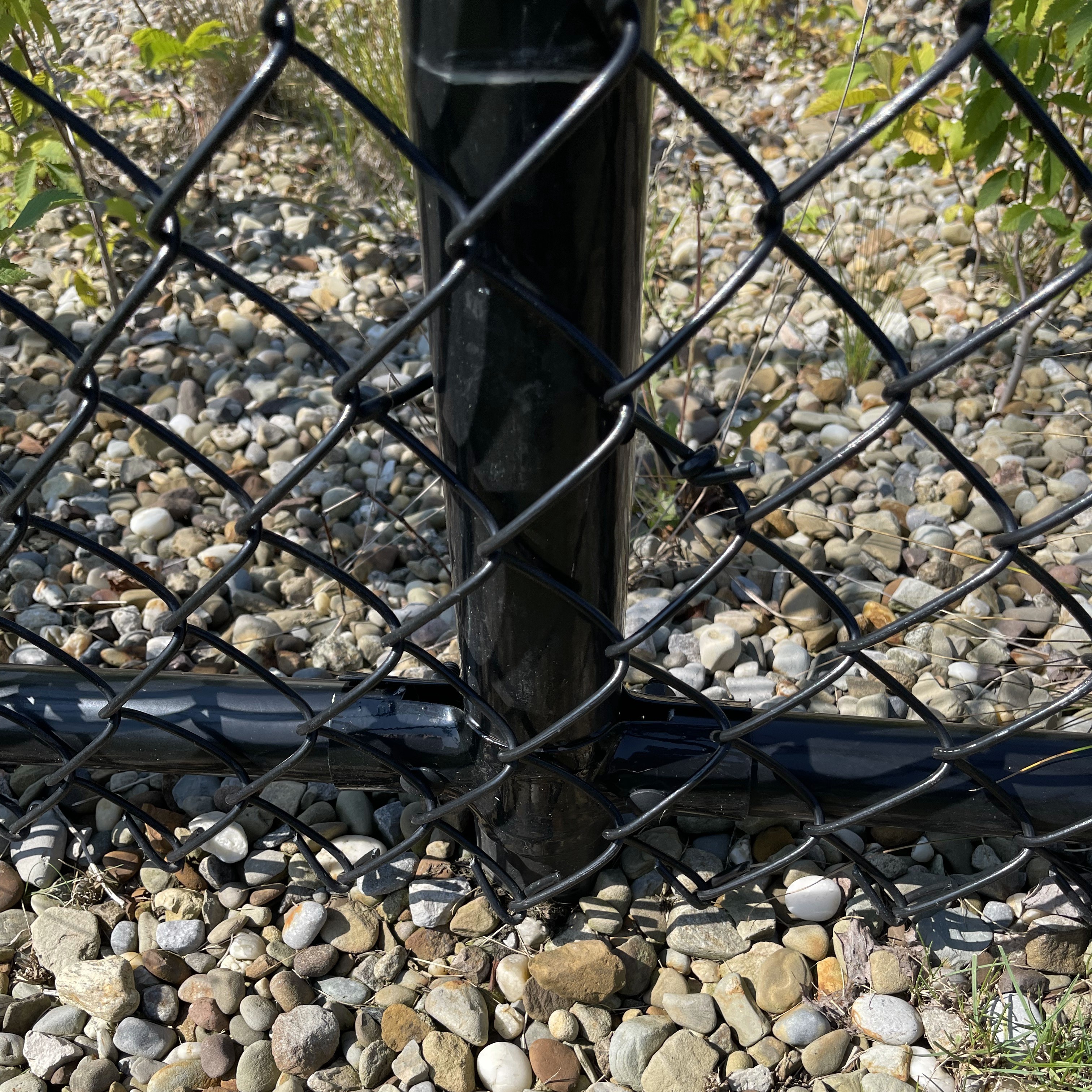 While chain link fences work great for a yard with pets or children, if your pet is small enough, it can slide under the fence without proper installation. There are many methods to secure the mesh or fabric of a chain link fence, but one may work better for you than another one.
1. Use Tension Wire At The Bottom Of A Chain Link Fence
Tension wire is usually installed when a new chain link fence is set up. However, sometimes, if a fence is installed improperly or the tension wire is damaged, a new tension wire may need to be placed.
When placing a new tension wire, connect it to the terminal posts. You may think it is installed by threading it through the mesh, but it is wrapped against the nut in a brace band at the bottom of a terminal post. To do this, you may need a tension wire tightening tool.
While tension wire to secure the bottom mesh is a good strategy for securing a chain link fence, more is needed for a small dog or cat trying to get through. Since tension wire is set outside the mesh, it leaves some leeway for critters to dig under a fence. If your pet is larger, tension wire may be all you need. If not, look at the other options.
2. Installing A Bottom Rail
A bottom rail is one of the most foolproof ways to ensure critters are not coming into your yard and your pet is not running out. Make sure the post you use for a bottom rail is the same size as the rest of the post on your fence. An end rail is installed using an end rail clamp and line rail clamps.
To Install A Bottom Rail:
Remove Tension Wire
Install End Rail Clamps And Line Rail Clamps
Measure The Bottom Rail Pipe To Make Sure It Fits Correctly On Your Chain Link Fence
Cut The Pipe You Will Use For The Bottom Rail
Use The Carriage Nuts And Bolts Included With Line Rail Clamp And End Rail To Secure Post
Use Fence Ties to Tie the Bottom Rail To Fence
Remember that the bottom of your fence needs to be installed no greater than 2" above grade, whether you decide to use the bottom rail or not. While critters may still be able to dig under, it will be a lot more challenging and may not be worth the effort. It may prove problematic if your fence is set on a slope. Since a post can only sit horizontally, burying your chain link mesh may make more sense.
3. Bury Your Chain Link Mesh
If you don't want to install a bottom rail, another option is simply burying the mesh of your chain link fence. This can be done while a fence is being installed. This method could prove more difficult if you already have a chain link fence in your yard. To bury a chain link fence, place the fabric a foot or more under the ground to ensure your mesh looks smooth. Remember that municipal regulations will dictate what alterations you can make to your chain link fence.
Tools To Secure Your Chain Link Fence
While all these methods work well, depending on the slope of your yard and whether you have installed a chain link fence, one may be better. If you need additional tools for these methods, look through this heavy-duty chain link fence hardware selection.