Chain Link Fence Galvanized Zinc-Coating Touch-Up Paint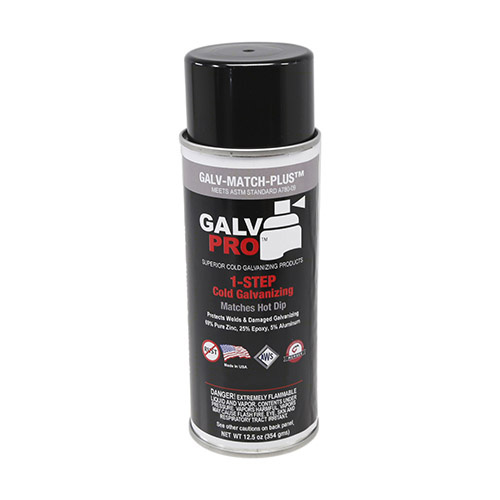 Keeping a chain link fence looking nice is more straightforward than some think. Besides the routine maintenance of chain link fences, like making sure the posts are straight, the tension wire and bands are secure, and the chain link mesh is tight, there can sometimes rust or discoloration that can appear. No matter what environment the fence is installed in, there is always a chance of rust developing. Most chain link fences are made up of steel that has been galvanized. This zinc coating protects the steel from the elements but eventually breaks down. Getting a solid, entirely aluminum chain link fence is always possible, but that costs a lot more money than a standard galvanized steel fence.
Touch-Up Paint is a quick and easy solution to discoloration or rust in a chain link fence. Not all chain link touch-up paint is created equal. Galv-Pro Gray Aerosol Spray Paint features 69% pure zinc, and is specifically designed for adding a protective zinc-coating as well as color matching galvanized chain link fence fittings. This high percentage will give the maximum protection against rust. Many people use this to protect the weld spots on their fences. This is a great, inexpensive way to cover up areas that have already discolored or rusted and preserve the chain link fence from premature rusting. The touch-up paint for galvanized chain link fence will match the hot-dipped steel, ensuring no odd-looking spots on any parts of the fence.
Protecting and cleaning up the look of any galvanized chain link fence is as easy as using a spray can. Even if you have some surface rust, you don't have to replace the entire chain link section. Getting a can of chain link fence touch-up paint will protect the fence for years. If you have any questions or want to place an order, check out our Application Tips or contact one of our helpful sales representatives.