Chain Link Fence Gates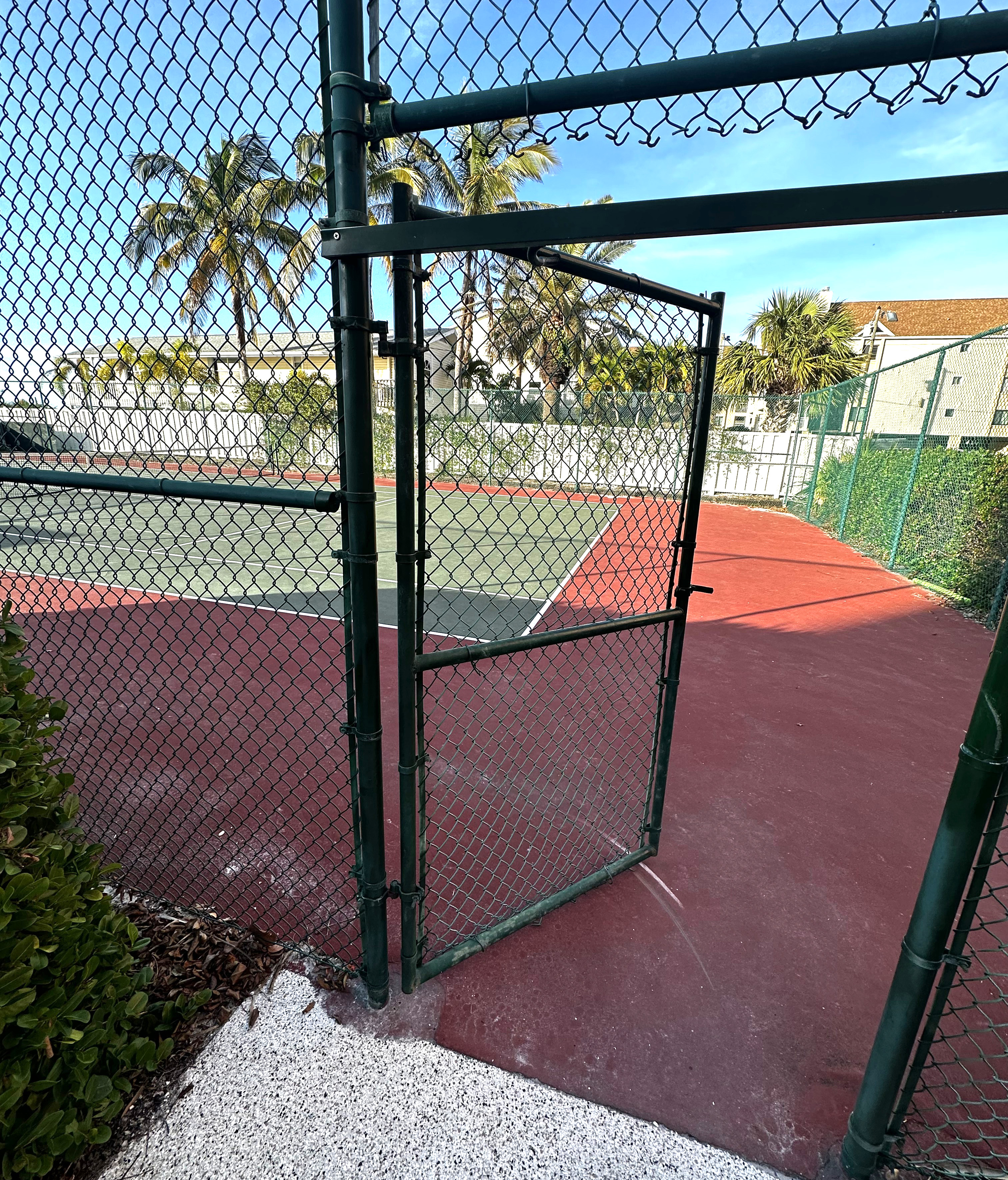 Chain link fence gates are a centrical part of a chain link fence and are a focal safety point. If you have a chain link fence around a pool, it's more important than ever to have a gate that will not fold when a child is attempting to open it. Therefore, when finding fittings that will secure your chain link gate, gate corners, post latches, and hinges are the prime components that will help you achieve that.
Chain Link Fence Gate Corner Hardware
These parts, also known as gate elbows, are placed at the intersection of two rail sections. These components create a 90-degree angle when installed, and the two sides accept a rail section. When choosing a gate corner for your chain link fence, you can choose from pressed steel or aluminum.
Depending on the size of your post, these gate corners come in sizes for your rail in:
1 3/8" [1 3/8" OD]
1 5/8" [1 5/8" OD]
2" [1 7/8" OD]
While there is a slight difference between pricing between aluminum and pressed steel gate elbows, it all comes down to what you prefer. Aluminum is still quite durable even though steel slightly outpaces it in terms of corrosion resistance. Despite this, aluminum and steel will still do well in the outdoors.
Chain Link Fence Latches
Pool Latches For Chain Link Fence
If you install a chain link fence gate, you'll need a rugged latch to go with it; furthermore, if you plan on installing these latches near a pool, your latch is more critical than ever. Auto-latches that close when pushed, kicked, or bumped are the best for pool gates. Also, these latches require strict BOCA pool safety standards, so you'll want to check this before purchasing a latch.
Strong Arm Gate Latches
One of the most popular latches not for pool gates is the Strong Arm Gate Latch series. These latches are for single gates created from hot-dipped galvanized steel. You won't need a drop rod to install this latch. These latches will help keep the gate in line and are built to commercial-grade standards.
These latches have two coating options: black powder-coated or galvanized pressed steel. While black powder coating helps a latch last longer, galvanized pressed steel is still durable. However, if you have a black chain link fence, you may prefer that your latch comes in the same color.
Male Hinges for A Chain Link Fence
When it comes to hinges, you'll need male and female hinges to secure a gate. Male hinges attach to the gate post and ensure a gate opens and closes correctly. Male gate hinges include the pintle to fit into the frame hinge receptor. These hinges come with a galvanized pressed-steel finish to withstand outdoor dirt, water, or any other condition.
Female Hinges For A Chain Link Fence
The female hinge connects to the male hinge, allowing the gate to swing. This type of fitting is made from galvanized pressed steel. With a large variety of sizes, these hinges are one of the critical components of your chain link fence.
Female Hinge Size Available For Post:
1 3/8" [1 3/8" OD]
1 5/8" [1 5/8" OD]
2" [1 7/8" OD]
Basic Components Of Any Chain Link Fence Gate
The essential components of any chain link fence gate include the following:
Male Hinge
Female Hinge
Chosen Latch System
Remember that a gate cannot be without these things. Gate corners can also be added if a gate is installed on a corner.
---
Chain Link Fence Gate Parts:
---