Residential Chain Link Fence Specifications
Chain Link Fencing is available in many different grades, styles, and sizes. Due to the wide variety of applications chain link fence is useful for, it can easily get confusing when researching which style, mesh size, and height are needed for your residential chain link fence. Other factors to consider when doing research depend on the fence's desired use and location. We're here to help our customers determine these factors and to help them learn Every Component of Their Chain Link Fence, and How To Install Chain Link Fencing - starting from the top and working down to the posts that sit in the ground!
Selvage Styles
When specifying the selvage type on chain link fencing, you refer to how the top and bottom of the chain link mesh are twisted and joined together. The two main styles for chain link fencing are Knuckle and Twist.
Chain Link Mesh Knuckle Selvage is made by twisting the pairs of wire ends and then folding the wire ends back down into a loop that prevents the sharp wire ends from being exposed. This rounded shape creates a gentle top and bottom for the fence and won't catch on clothing or people. A knuckled chain link fence is highly recommended for fencing applications where pets and children may be nearby.
Twist Barb Selvage is made by twisting the wire ends together, typically in three full turns, and then cutting the ends at an angle. This creates sharp edges, so it is strongly recommended to avoid it in residential chain link fence applications in order to protect individuals from these sharp edges. This type of fence fabric works best in commercial and high-security settings.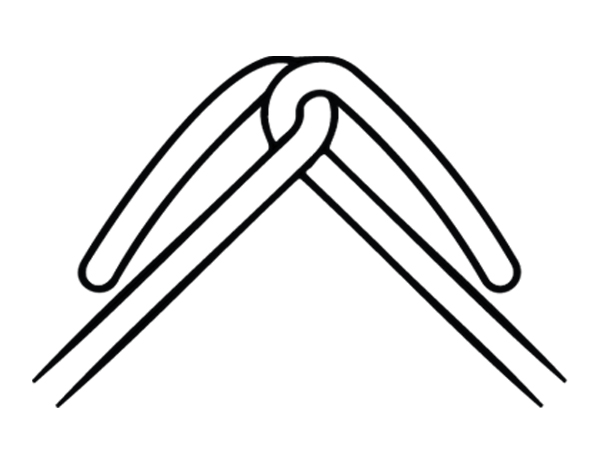 Knuckle Selvage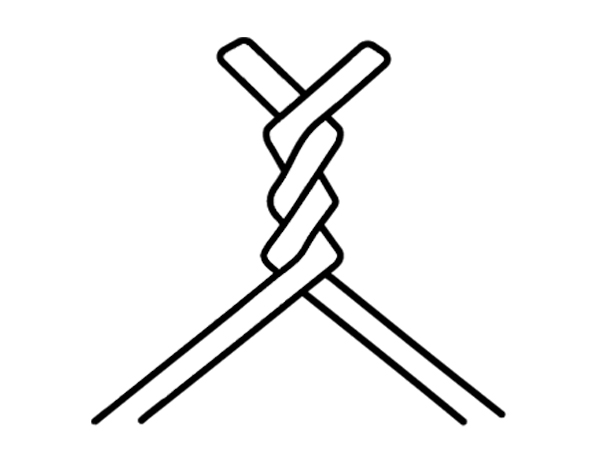 Twist Selvage
All Residential Chain Link Fence need to use fabric with knuckled selvages at the top and bottom in order to eliminate exposure to sharp edges, as well as to create a smoother, safer rounded shape on the fence.
---
Chain Link Fence Fabric
The fabric portion of the chain link fence, sometimes referred to as chain link mesh, is what attaches to the physical framework of the fence and forms the actual barrier. Many different types of gauges and mesh sizes are available for chain link fabric. The Chain Link Fence Manufacturers Institute (CLFMI) recommends that a chain link fence needs to meet the standards established by the American Society for Testing and Materials (ASTM).
Diamond Mesh Size: The fabric diamond mesh size is measured by the distance between the parallel inside edges of each diamond created when weaving together the wire that makes chain link fence fabric.

Gauge Size: A chain link fence gauge refers to the wire diameter used for weaving the chain link fabric. The smaller the gauge, the thicker and stronger the fence will be.
For Residential Grade Chain Link Fencing, the ASTM standard specification suggests an 11 1/2 Gauge wire size with diamond mesh sizes no larger than 2 1/8" for fences three to five feet tall, and for fences six feet or taller, 11 Gauge wire with diamond mesh sizes no larger than 2".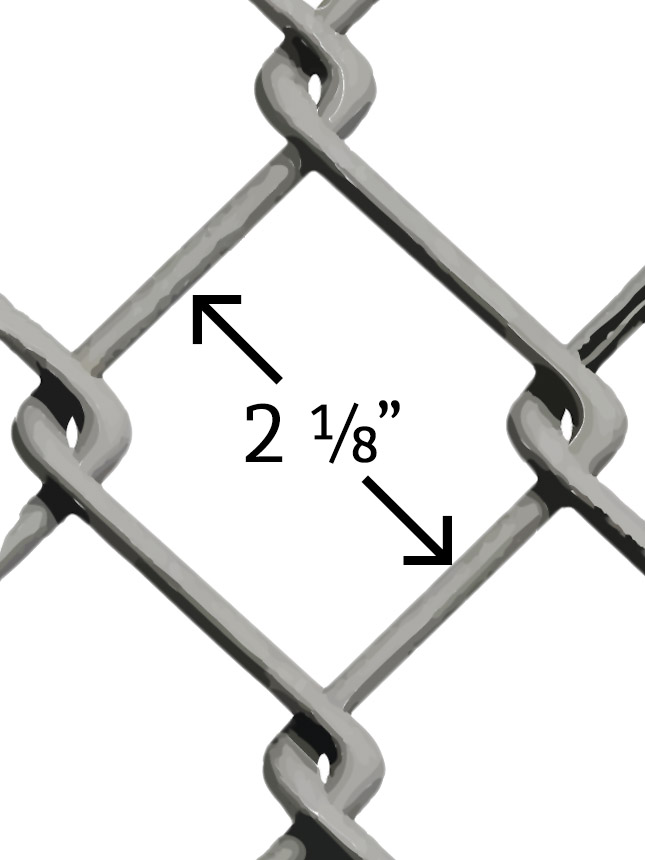 ---
Measuring Posts
When buying a Hinge, Line Rail Clamp, End Rail Clamp, Post Cap, Loop Cap, Post Sleeve, Brace Band, or Tension Band, it's important to understand how to properly measure a post or rail so the item you buy fits properly. While the listed dimensions for a post cap may be 2" the post that will have an actual diameter of 1 7/8". Measuring a round or square post to find its diameter depends on whether the product fits the post internally, like these post plugs, or externally, like these post caps. Below, you can read more about inside diameter versus outside diameter and how the nominal - or listed - diameter for a product can differ from the actual diameter.
Inside Diameter Vs. Outside Diameter

Inside Diameter, Outside Diameter, And Wall Thickness
All posts have an inside diameter and an outside diameter. To find the outside diameter, measure from the outside edge of the post's wall directly across to the inside edge on the opposite side. The outside diameter is relevant for external-fitting objects like external post caps.

The inside diameter of a post will depend upon the wall thickness of a post or rail. 16 Gauge (0.065" Wall Thickness) is the most common pipe used for residential chain link fence installations. This diagram illustrates the role that wall thicknesses or gauges play in the diameter of a pipe or tube measurement.
Determining the correct measurements for your posts can seem overwhelming. To learn more about the different types of tubing and how to measure your posts, we recommend taking a look at our information page dedicated exclusively to determining How To Measure Your Posts.
Shop Fittings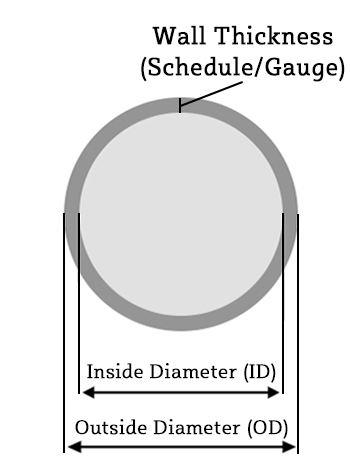 For Residential Chain Link Fence Installations, ASTM guidelines recommend using 16 Gauge (0.065" Wall Thickness) tubing for every part of the fence framework, including the posts and top rails.
Shop Tubing