Panic Exit Bar Mounting Kits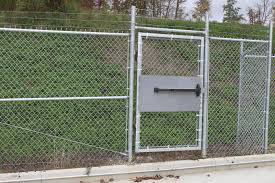 Make safety a top priority by installing a panic exit bar kit to your chain link fence. A panic exit bar, also sometimes referred to as a rim exit device or crash bar, is a long rail that extends across most of the width of the door or gate and will automatically open the door when it is pushed. These bars are a safety requirement for all public buildings like schools, offices, and government buildings so that people are able to evacuate quickly during emergencies.
These panic exit bars are very common on doors inside buildings but are also capable of being installed on chain link fence gates. At Chain Link Fittings, we offer an extensive selection of panic bars by themselves, panic bar kits, as well as panic bar accessories. To easily and effectively add safety to your chain link gate, our panic bar kits are easy to set up and include all the necessary hardware needed for installation.
All our panic bar kits include adjustable receiver brackets and mount plates so they can fit your exact chain link gate perfectly. Our kits offer bars that range in size from 36" to 48", and we even carry kits that have adjustable bars for unique installations. We understand that every gate is different, and each install has specific requirements, which is why some of our kits include unique features like alarms, lock boxes, and keyed cylinders.
Each panic bar kit is made from durable and heavy-duty materials like pressed steel and stainless steel to ensure long-lasting use. Offered in either black or silver to match both traditional or black chain link fences.
Shop Panic Bar Kits